"Roadmapping is a flawed concept in the age of Agile. Maps, by their definition, are linear, and we don't build linear products and services anymore. We build continuous systems."
The Outcome-Based Product Plan:
Step 1: Change the question we are asking
Old question: what will be built? (output)
New question: what will people be doing differently if we succeed? (outcome)
Step 2: Change how we view our work
We must change our perspective and view work from the outside in. (customer-centric view). Instead of giving you a possible solution, let me understand what problem you are having first.
Step 3: Change the destination
"A roadmap is a marketing tool with your plans for the coming quarter and year" -Tami Reiss.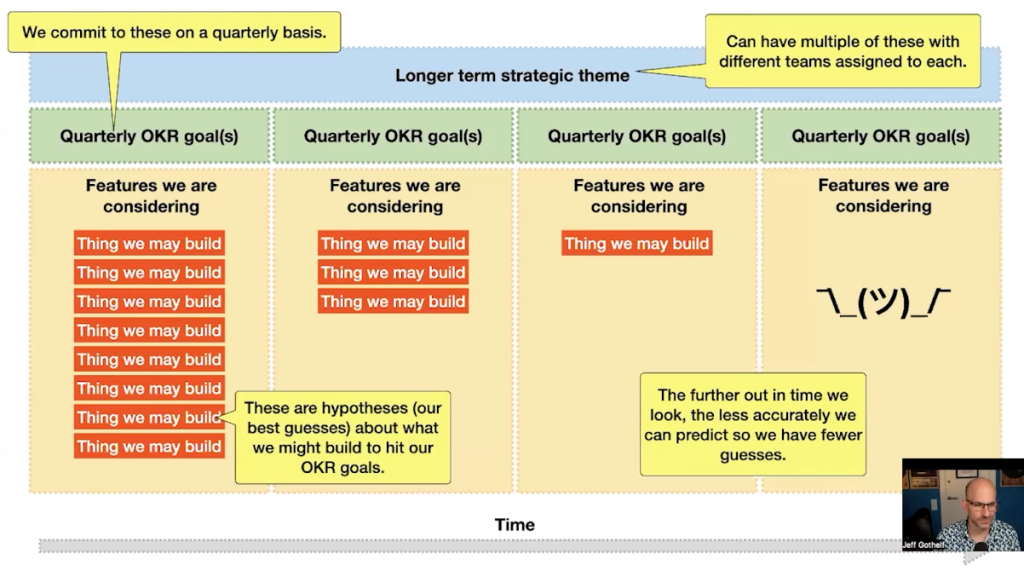 Objective overall, key results per quarter.
Jeff uses a nice fog metaphor to explain the focus of this way of working.
How to write your first OKR?
Start with a clear business problem.
Turn the business problem into a positive goal. (objective)
If you solve the problem, what will people be doing differently? (key results)

Determine the risks in your ideas and design experiments to test them. (nice example of bike racks in Rotterdam)

Quarterly Check-ins:
– How are we trending toward our quarterly key result targets?
– What are we learning?
– Are there hypotheses we're currently working on proving true? False?
– What will we keep funding?
– Where will we pivot?
– What will we kill?
– What will we add to our backlog?
Outcome-based product planning explicitly requires teams to do product discovery!
Challenges to expect, and how to overcome them:
Pushback and anxiety – the team is going to determine what to do based on data/experiments.
What they will keep doing: defining & clarifying strategy; setting guardrails and scope; making key decisions; removing obstacles; facilitating team success.
As a team, practice radical transparency; over-communicate; support decisions with data; reinforce key results as goal; check in after every short cycle.
Sell the benefits, not the feature; speak in outcomes; outcomes have financial impact (example how Apple sells their products)